Hardware Self Test
Step 1.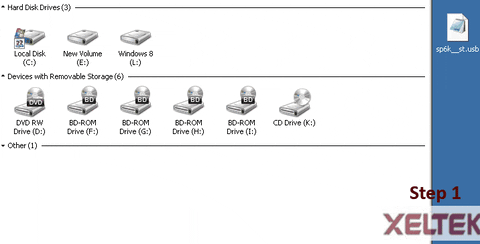 Locate your SuperPro software folder located in your C:\ Drive. After locating the software folder EX:C:\SP6100 there will be another folder name Algo1. You will need to copy the required file EX:sp6k__st.USB into this folder.
Step 2.

Open SuperPro software go to tab Device and search Xeltek, select #######11111TST.If you successfully copied the required file into Algo1 folder you will have all the hardware test functions on the left side under Operation Option. If you are unable to see the hardware test function you will need to repeat Step 1. After selecting #######11111TST press "Auto" and this will start testing the hardware, if you do not have a CF card inserted please skip this option as it will show an Error. Any other related hardware issues will show an Error.
Once hardware self test is completed please screenshot the results and send to Aaron@Xeltek.com for reviewing.
Additional service charge applies to out-of-warranty items:
$849 for SuperPro 5004EGP, 5004GP, 6004GP, 6104GP
$395 for SuperPro 5000, 5000E, 6000, 6100
$225 for Superpro 501S, 601S, 611S
$195 for Superpro 500P, 600P, 610P
$475 for SuperPro 7000, 7500
$249 for SuperPro IS01
$695 for SuperPro IS03
$175 for SuperPro M
$495 for Superpro 9000U
$249 for Superpro 3000U
$175 for Superpro 580U
$155 for Superpro 280U
Do you have any questions?